Healthy Pisto
PISTO RECIPE
This healthy pisto recipe is a very good option for a fast and heathy meal. It is possible to eat healthy by doing this easy and fast recipe.
This is a very traditional Spanish dish which contains many vegetables and gives a lo t of energy.  It is a very simple and fast recipe and it is perfect for everyone. This is a great way to inset kids into eating vegetables.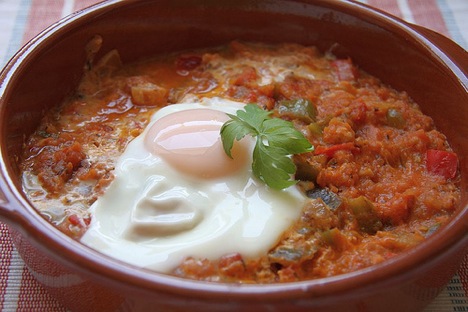 Ingredients: (2 people)
-Green pepper (2 medium size)
-Tomatoes (on whole tomato)
-Onions (half of an onion)
-Zucchini (whole zucchini)
Method:
-First, in a saucepan heat the oil over a low-medium heat. Remember to cook in a low temperature, to get all the different flavors of the vegetables.
-Start adding the onions and the peppers let it cook.
-Now, add the zucchini and tomatoes and cook until is mixed with the previous elaboration.
-This step is optional, you can add tomato sauce to give more flavor to the healthy pisto recipe.
-Finally, fry an egg to put on top of the vegetables.
AND ENJOY YOUR DELICIOUS AND HEALTHY MEAL!
Please follow and like us:
---
---